Adrien DAVID-SIVELLE
Software engineer in Web and Embedded Systems - Graduate of School of Mines (France)
Adrien DAVID-SIVELLE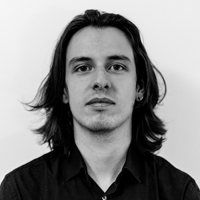 Age: 33

Address
Orlando, Florida
USA
Contact

adrien.david.sivelle@gmail.com


http://adrien.davidsivelle.com


http://linkedin.com/in/dsadrien/en
Education
École des Mines de Saint-Étienne, France
2010 / 2013
Master's Degree - Major in Computer Science, New technologies and Microelectronics.
National Chiao Tung University, Taiwan
2012
Exchange semester - Studying M2M / IoT, Middleware & SOA
Classe Préparatoire aux Grandes Écoles
2008 / 2010
Intensive 2-years course in Mathematics, Physics and Industrial Science at Lycée Chaptal (Paris)
Scientific Baccalaureat
2008
GCSE A-level equivalent, obtained with honors.
Skills
Foreign languages
Native French speaker
Fluent in English
Beginner in Spanish and Chinese
Programmer skills
PHP, Javascript, HTML 5, CSS 3
Symfony2, Node.js, Backbone.js
SQL, MongoDB (NoSQL, document oriented)
Java, C, C++, Perl, Python
Certified LabVIEW Associate Developer
IT / Network
Achieved the module "Network Fundamentals" of "Cisco Networking Academy"
Service-oriented Architecture (SOA)
MATLAB, MultiSim, Proteus ISIS & ARES
Embedded Systems
Embedded C, Assembly Language, VHDL
Embedded Linux Kernel, Intel IA (Atom)
App development on Android & Windows 8 RT
Wireless transmissions systems
Machine to Machine (M2M) / Internet of things
Work experience
Backend Developer & Consultant
October 2019 - Now
Independent with Carpe Domos (Remote, from Orlando, USA)
Contractor work for Carpe-Domos on Hostvana, an automated Airbnb/VRBO responder for hosts, using Watson & Google NLP services.
Lead Backend Developer
June 2016 - October 2019
At Deeploop (Remote, from Orlando, USA)
Building an Artificial Intelligence powered Python/NodeJS platform connected to the APIs of the leading CRMs in Accounting, Sales management and Scheduling. Deeploop multiplies your sales revenue by automating manual tasks and contacting prospects at the best possible moment.
Adjunct Professor
June 2018 - August 2018
At Rollins College (Winter Park, FL, USA)
Taught 2 undergraduate classes in CS department of the Holt evening program: Introductory Java and Data-Structures in Java.
Full-Stack JavaScript developer
March 2015 - October 2015
At

360Learning

(Paris, France)
One of four JS developers in an innovative start-up building an e-learning LMS web platform (SaaS) offering Blended Learning. As a full-stack developer, my work concerns business logic, data structures and front-end development. Technologies used: Node.js, Backbone.js, MongoDB.
Analyst in Power & Performance - Software Architecture Team
September 2013 - January 2015
AUSY

consultant for Intel -

MCG

(Sophia Antipolis, France)
Worked on Power & Performance analysis on IA mobile platforms (Atom) based on Android/Linux. Designed and programmed, with another analyst, a python automation farm, fitting the team's needs for its growing activity in PnP analysis.
Internship: Embedded Systems design and programming
March 2013 - September 2013
Laboratoire de Mécanique et d'Acoustique - CNRS

(Marseille, France)
Designed and programmed light embedded data acquisition systems to measure parameters of musical instruments for acoustics researchers in order to replace heavy and expensive acquisition devices.
Team manager and web developer in a 4-student team
6-month project, including 4-month full-time in 2012
For

SNEF

(Gardanne, France)
Developed a complete monitoring solution for public lighting, from sensors to the central server. Managed a 4-student team, designed the communication standard and developed the whole business logic of the central server with Symphony2 PHP Framework.
Internship: Operator in cleanroom
1-month internship in February 2011
At

STMicroelectronics

(Rousset, France)
Worked the night shift in the test area (quality control) in cleanroom
Website Developer
October 2011 - August 2012
At

M-GaTE

, Junior Enterprise (Gardanne, France)
Worked as a web developer, on small projects, including one e-application.
November 2010
Self-Employed

(Paris, France)
Created a company and worked with two sales agents (AssurWeb Création) on a web project.
Private tutoring in Mathematics
2010
Via Internet boards and recommendations. (Paris, France)
Tutoring in Mathematics (High-school level) during vacation.
Associations and extra-curricular activities
Since 2015

Vice President and co-founder of the French Association of Barbershop Singers (FrABS)

2011 / 2012

Creator and director of a student choir at École des Mines (Gardanne, France)

2011 / 2012

Elected member of the student association at École des Mines (Gardanne, France)

Since 2009

Secretary and webmaster of the association "Le souffle Association de Yoga" (Pantin, France)